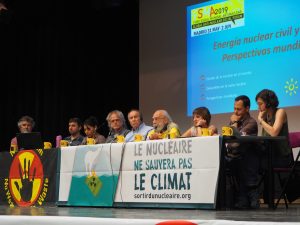 The Antinuclear World Social Forum that took place in Madrid last weekend comes now to an end. More than a hundred activists have met in Madrid to share their knowledge on the civil and military nuclear situation worldwide. Representatives from different platforms against uranium mining, radioactive waste, nuclear power plants or armament have restated their goal of putting an end to the nuclear nightmare. The results of catastrophes such as those of Chernobyl, Fukushima or the first atomic bombs tests in New Mexico have been present in the Forum. This antinuclear commitment pays also homage and its respects to the memory of victims and colleagues such as Gladys del Estal, an antinuclear activist killed in Spain 40 years ago, Ladislao Martínez, Antonio Lucena, Mario Gavira and others.
Among its many conclusions, this Forum highlights the organisations' drive towards the creation of meeting places and going forward in the expression of international solidarity against the nuclear nightmare. They also seek to keep uniting their efforts in all countries demanding the end of nuclear energy and to stress that it offers no solution against climate change. The management of nuclear waste, which will last for thousands of years, is an enormous mortgage for future generations that we need to stop immediately. Because of this, it is necessary to proceed now with the shutting down of nuclear power plants.
STATEMENTS BY THE GROUPS
Iberian Antinuclear Movement: We are thankful for the presence of our international colleagues. We all have proven in the Forum that nuclear problems are global, from mining to waste, to power plants and weapons. This Forum renews our commitment to put an end to this beast.
Guenter Hermeyer – Don't Nuke the Climate: International Lobby Organisations like IAEA and IEA are pushing for more nuclear under the threat of climate change. Nuclear has always been a threat in itself and is absolutely not needed to solve the climate change problem. It is too dirty, too expensive, too dangerous, too slow and obstructs Renewable Energies and other true climate solutions.
Leona Morgan – Diné No Nukes: In the fight against the nuclear beast (from uranium mining to weapons, energy, and waste) it is important to remember that Indigenous peoples of the world suffer the impacts from uranium mining the most and that women and children also are more at risk from exposures to ionizing radiation. As an indigenous woman in this movement, I came to the Antinuclear World Social Forum in Madrid to bring our stories from the United States and a message that our work needs to be inclusive, and that is not just about the fight in your backyard, but a fight for the protection of our Mother Earth and the future generations of all people.
Pinar Dermican (Nukleersiz.org): The worldwide community has understood that natural disasters like earthquakes can trigger human-made catastrophes such as it happened in Fukushima. Turkey is an earthquake country as well as Japan. Plus Turkey's nuclear regulatory and nuclear infrastructure has also been criticized by IAEA. The recent cracks in Akkuyu base is a very visible warning about what will occur if this project goes on. Akkuyu Power Plant Project must be stopped immediately for the sake of Mediterranean region and rest of the world due to the fault lines and the insufficient legal regulation. Not only citizens of Turkey but of whole world must act to avoid earth from such risk.
Forum Against Garoña: People from many territories have met, sharing their struggles against all parts of the nuclear cycle. We have expressed our opposition to this form of energy, which is dangerous, obsolete, which we should never have produced, which we could never choose to produce, which stops the development of renewable energy and that we want to leave behind as soon as possible. It is because of this that we keep struggling, and also for the transparent dismantling of Garoña.
Catalonian Antinuclear Movement: The antinuclear struggle needs to ally itself with the movement against climate change and to come up with a closing schedule before coming to talks about the location for radioactive waste facilities.
Stop Uranium Platform, Salamanca: In relation to the interests that we defend when opposing uranium mining, we bid farewell to this #AWSFMadrid2019 satisfied and with the demand to the next Spanish government that this type of mining be banned in our soil.
Let's Shut Cofrents: We condemn that Cofrentes is old and deteriorated, and that the worst comes from its lack of safety culture, which has been pointed at by the Spanish Nuclear Security Centre. This is the consequence of its owner, the company Iberdrola, valuing profits over the health and security of the public. Because of this, we demand for the power plant to be shut down immediately, and its life never extended beyond 2021, when its licence expires.