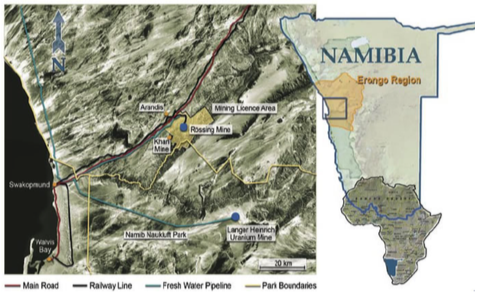 READ MORE
2015: Rio Tinto in Namibia - the Connelly Case
This fact sheet reports the case of a uranium mine worker in Namibia who suffered health damages about two decades ago, and his legal battle against one of the largest mining groups in the world. - read more
April 2012: EJOLT research unearths radioactive contamination in Namibia
EARTHLIFE Namibia and CRIIRAD (Commission for Independent Research and Information about Radiation) have organized visits and measurements in areas located in the vicinity of uranium mines in Namibia, especially Rössing. - read more
URANIUM MINING IN NAMIBIA (2009, pdf)
The mystery behind 'low level radiation'
URANIUM – A BLESSING OR A CURSE? (2008, pdf)
What you need to know about the uranium industry in Namibi
Earthlife Namibia
From the Öko-Institut-Report 2005: The company Langer Heinrich Uranium (Pty) Ltd. has, in 2004, proposed to establish and operate a uranium mine in the Namib desert, about 80 km East of the City of Swakopmund in Namibia and within the Namib-Naukluft National Park. Uranium mining and milling as well as the associated wastes from these processes cause several environmental impacts.
Book/Amazon: "Past exposure: revealing health and environmental risks of Rössing Uranium" (1992)
After Namibia on Jan. 25, 2017, announced the lifting of a 10-year moratorium on new applications for exploration licences on nuclear fuel minerals, 14 companies applied for a total of 18 exploration licenses during the rest of January 2017 alone.
RÖSSING MINE
The Rössing Uranium Mine is located in Namibia, ca. 60 kilometers inland from Swakopmund, in the mountain range near the River Khan. It has been a cause for environmental, human rights and health concerns for more than 30 years through unsafe working conditions, radioactive effluent and tailings. In the near vicinity is the village Arandis, where the workers and their families live.
LANGER HEINRICH
As part of the permitting process, LangerHeinrich Uranium (Pty) Ltd. has commissioned the company Softchem of South Africa to prepare an environmental assessm ent report for the planned project. The draft report was issued, written comments were received and the public participation meetings were held in October 2004. The final environmental assessment report was then issued in April 2005 [Softchem 2005]. According to the owner company Paladin Resources Ltd.1, in July 2005 the mining license for the Langer Heinrich Uranium Mine was granted by the Ministry of Mines and Energy. On March 16, 2007, the Langer Heinrich uranium mine was officially opened. In 2017 Paladin suspends mining at Langer Heinrich uranium mine for two years, while processing of stockpiled ore continues.
Namibias Uranium Rush
Uranium mining companies have been exploring the arid country of Namibia looking to open new mines. Rössing, a Rio Tinto mine has already been operational for more than 30 years. The implications. This video shows the negative consequences of uranium mining for workers and communities in Namibia.
Article by Wallstreet Journal Germany on the low demand for uranium on the global market and the consequences for uranium exploitations in Namibia: Schwache Urannachfrage macht Namibia zu schaffen.
Read More