Our mission statement:
To inform the world of the hazards of uranium mining.
If people know about how this dangerous material is taken from the earth, they will have an enriched point of view on the nuclear power issue in general.
Our work is about human rights, geological affairs, and last but not least these questions: Is it still viable to mine uranium? Is this a path governments and big firms should take to make their money?
We think you should think about it!
Uranium Mining - what are we talking about?
Uran – tödlicher Bodenschatz
Aufzeichnung des Online-Vortrags vom 8. März 2021
Der Brennstoff, der Atomkraft am Laufen hält, heißt Uran. Dessen umweltzerstörende Gewinnung, meist in entfernten Ländern wie Afrika, Asien oder in Australien, und die Menschenrechtsverletzungen, die er mit sich bringt, strafen das Narrativ der CO-2-neutralen Energiegewinnung Lügen.
Der Bergbau hinterlässt viele Millionen Tonnen langfristig radioaktiven Abraum, verbraucht viel Energie und große Mengen Wasser. Die Gesundheitsschäden bei Bergarbeitern sind beträchtlich. Rund sieben Milliarden Euro haben die Aufräumungsarbeiten alleine des ehemaligen Uranbergbaus in der DDR gekostet, in Nordamerika müssen die Steuerzahler*innen ebenfalls Milliardenbeträge für Sanierungsmaßnahmen aufbringen. In Ländern des globalen Südens kontaminiert der radioaktive Abraum weitestgehend ohne Sanierung die Umwelt auch in Zukunft.
Günter Wippel, Diplom-Volkswirt, Mitorganisator des WORLD URANIUM HEARING 1992, Salzburg, aktiv gegen Uranbergbau in Kanada und USA, Mitbegründer von uranium-network.org und seit 2008 engagiert gegen Uranbergbau vorwiegend in afrikanischen Ländern. Mitorganisator von Konferenzen zur Aufklärung über Uranbergbau in Bamako / Mali, in Tanzania und Südafrika, und in Kooperation mit IPPNW und anderen in Basel. Produzent des Films "Uranium Mining - what are we talking about?"
Controversial (Uranium) Projects
Focus on: Aftermath of Uranium Mining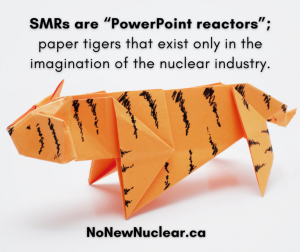 Focus on: SMR – Small modular reactor Within the recent months, there is a major hype around SMRs – Small Modular Reactors. It is also used by companies to point to a future for nuclear power – and this will imply more uranium mining.For this reason, we are covering the SMR issue to a certain…
Read More